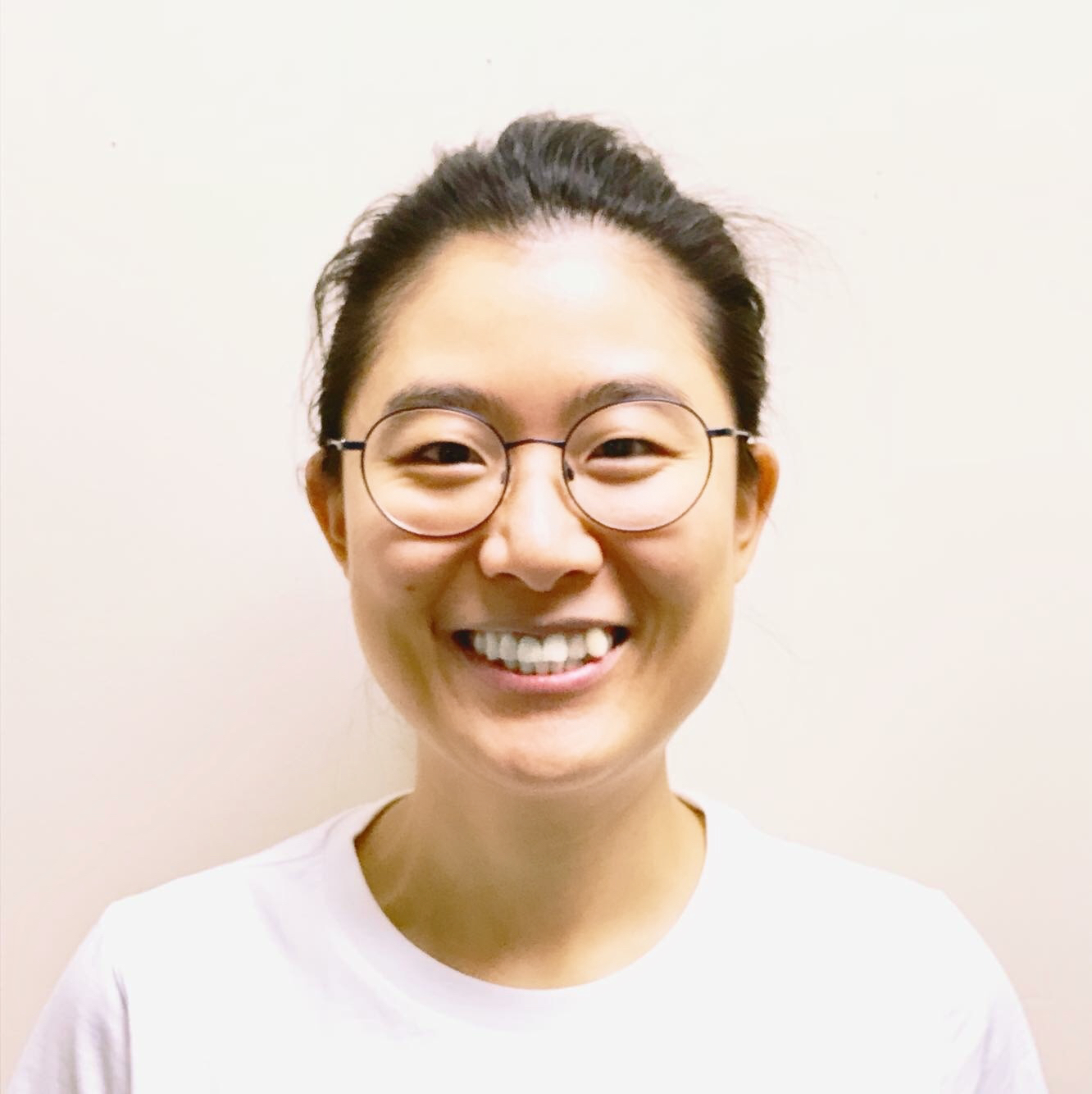 Xiaomeng (Jessie) Bi
UX/UI Designer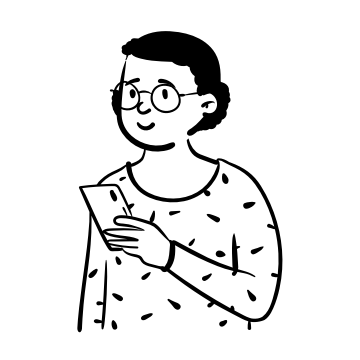 Food Revolution
Time is valuable; people realize they need to use it more efficiently. With the arrival of the digital age, people's eating habits have adapted accordingly. Technology has contributed to changes in consumer preferences, and dependence on technology has moved many related interactions online, including having cooked meals delivered to homes.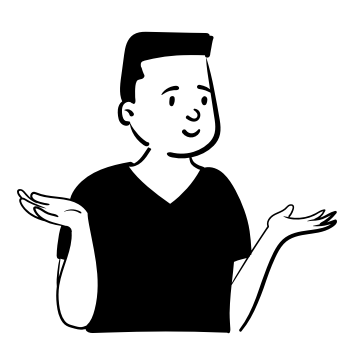 Why we do it
Our goal is to design the best food app – one that people will enjoy using and come to rely on.
Today more than ever, efficiency is an essential attribute everyone strives for. People are not only looking for something exciting to eat but also more adventurous ways to explore healthier eating and better choices.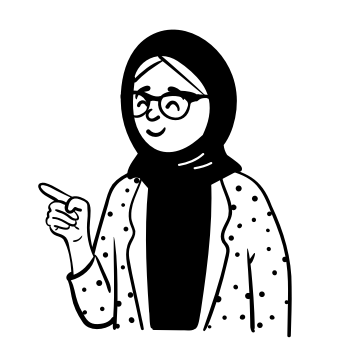 Challenge
The majority of the population is crunched for time. We noticed people are ordering food, perusing various menus, checking ingredients, and evaluating the accuracy of restaurants' operation details — all online. Convenient, efficient, and more attractive — this is what we are aiming for with our app. We want to tune in to our users' expectations with precision. Ordering food online has never been easier.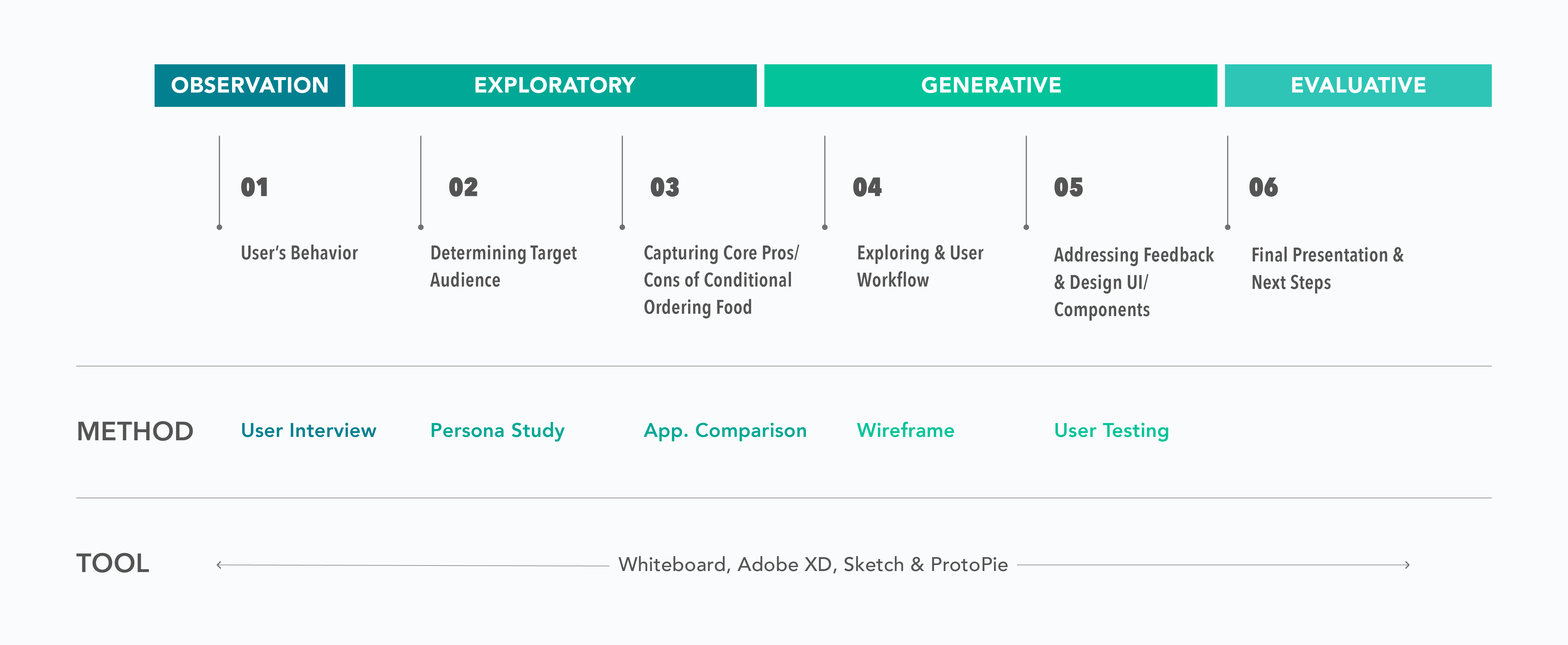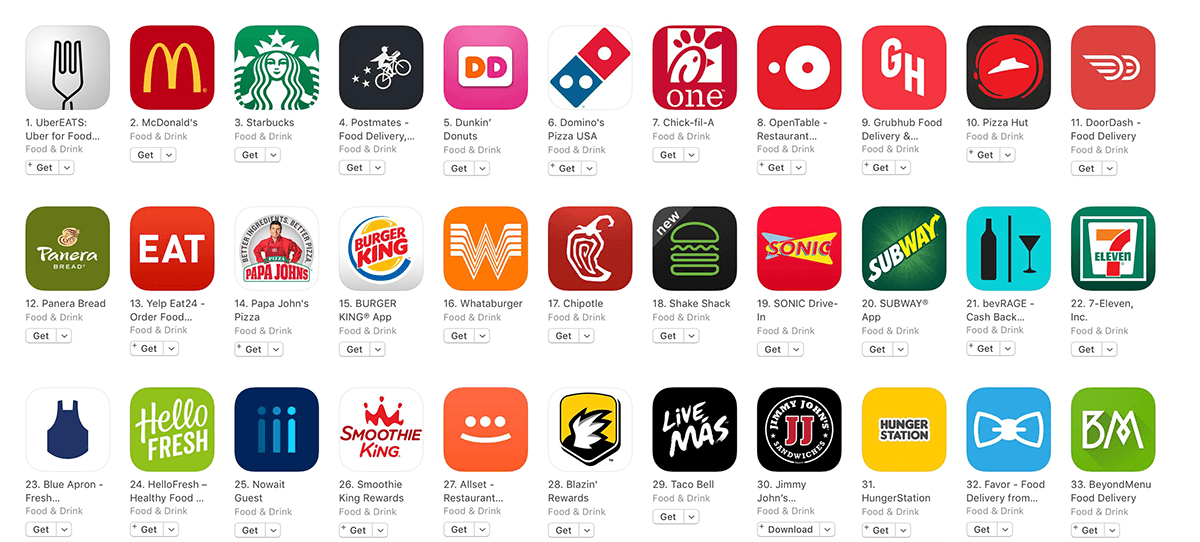 Problem Definition
We found that there are many apps for ordering food, but each has its advantages and disadvantages. The most common flaws are that the information about the food itself is not comprehensive. Secondly, the pictures are not very consistent with what people have actually eaten. Third, relatively high delivery fees will be charged for outbound apps. Fourth, many nav tasks are unclear and even confusing to users. Finally, they will spend more time looking for deals before finding their favorite foods and restaurants.
Interviews
At the discovery phase of our project, we conducted user interviews in order to get a better understanding of the problem.
We used conversational and form surveys for our user research. We were thorough in our questioning. How old they are, which food apps they are using, how many, which one they are like most, why? How often they are using the apps. Do they like customizing their order? And so on.
They are curious about the price, deals, saving time, and ingredients. We observed that users will spend less time searching for new things; as creatures of habit, they enjoy ordering the same food to eat. They want to know if restaurants are meeting their service level agreement and what would be the estimated time for preparation and delivery. In addition, they want the Amazon experience - live tracking, delivery time updates, and the delivery location.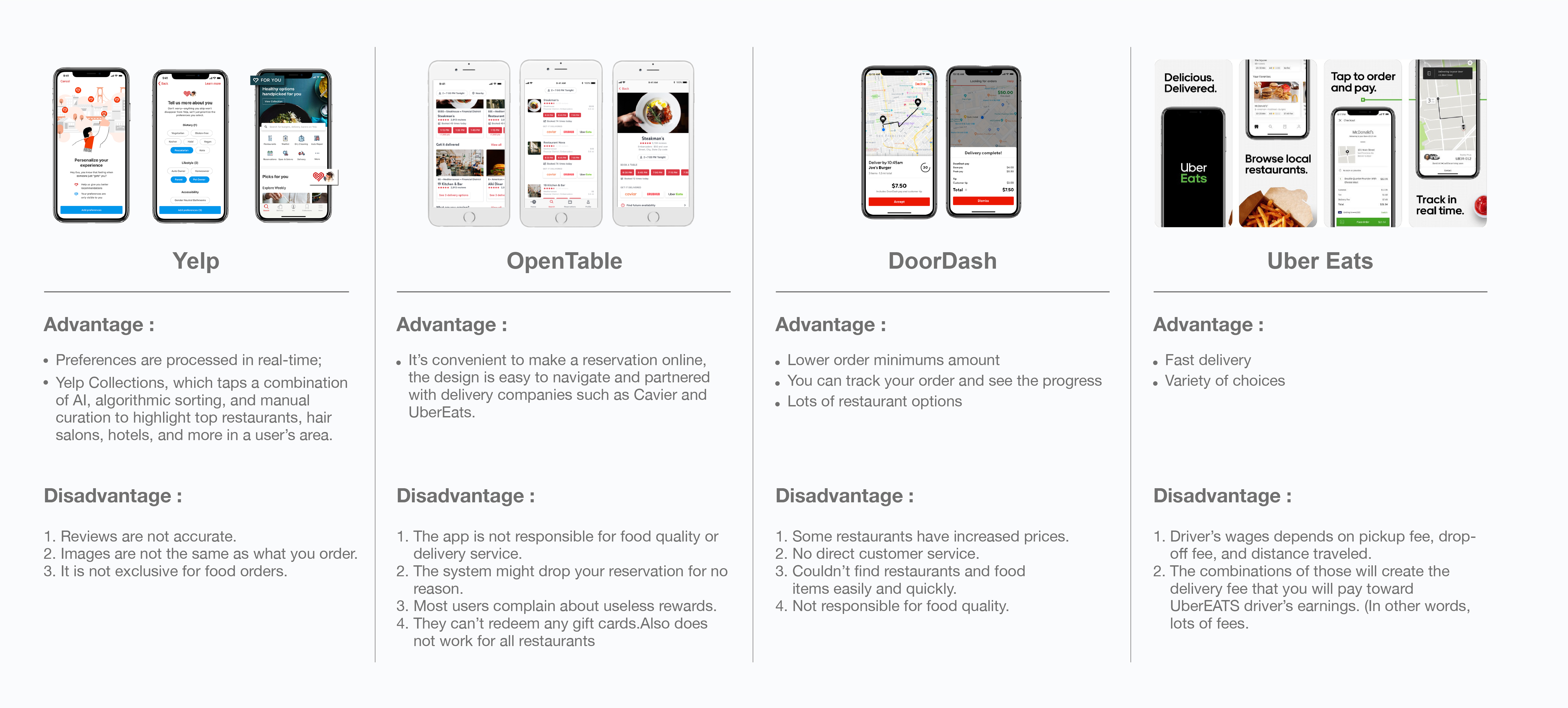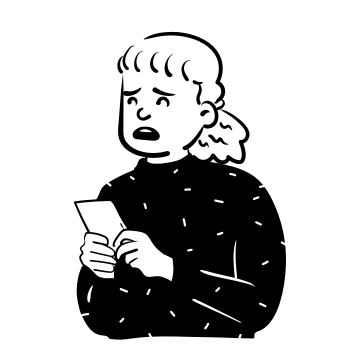 User Testing Round 1
Task Flow
Order tacos from a place within a quarter-mile of your location

Order something to eat that doesn't have meat, and that you can pick up in less than 15 minutes

Order Pad Thai from Ayuttaya Thai Restaurant
User Testing

Before launching the product, we did first-round testing to reveal possible usability problems.
The aim is to find out how users feel about our app, and we provide three different test scenarios. Our target age groups are 20-35-year-old millennials who are used to playing with their phones with experience ordering food via mobile apps. We decided to do face-to-face testing to observe how they feel about the first user task. Once they took tests, they all agreed we needed a cleaner nav. They don't like wasting time searching for deals and unrelated content. They not only care about the whole order experience, but they also care about what they are eating and how healthy it is. Finally, some of them rely on reviews, which they think is essential to know.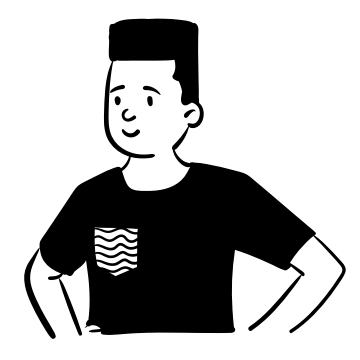 Feedback from User Testing
After the first user testing, these are the items we needed to improve:
Fix minor details

More interaction on the front page

Today's Deal Page

Back buttons or logo section

Such as adding right distance details and correct interaction connectivity between pages and buttons.
Reorganize front page buttons for easier usability.

The page needs a check out section and distance information

We need to place the back button on each page or have a logo on top so a user can tap it and go back to the front page.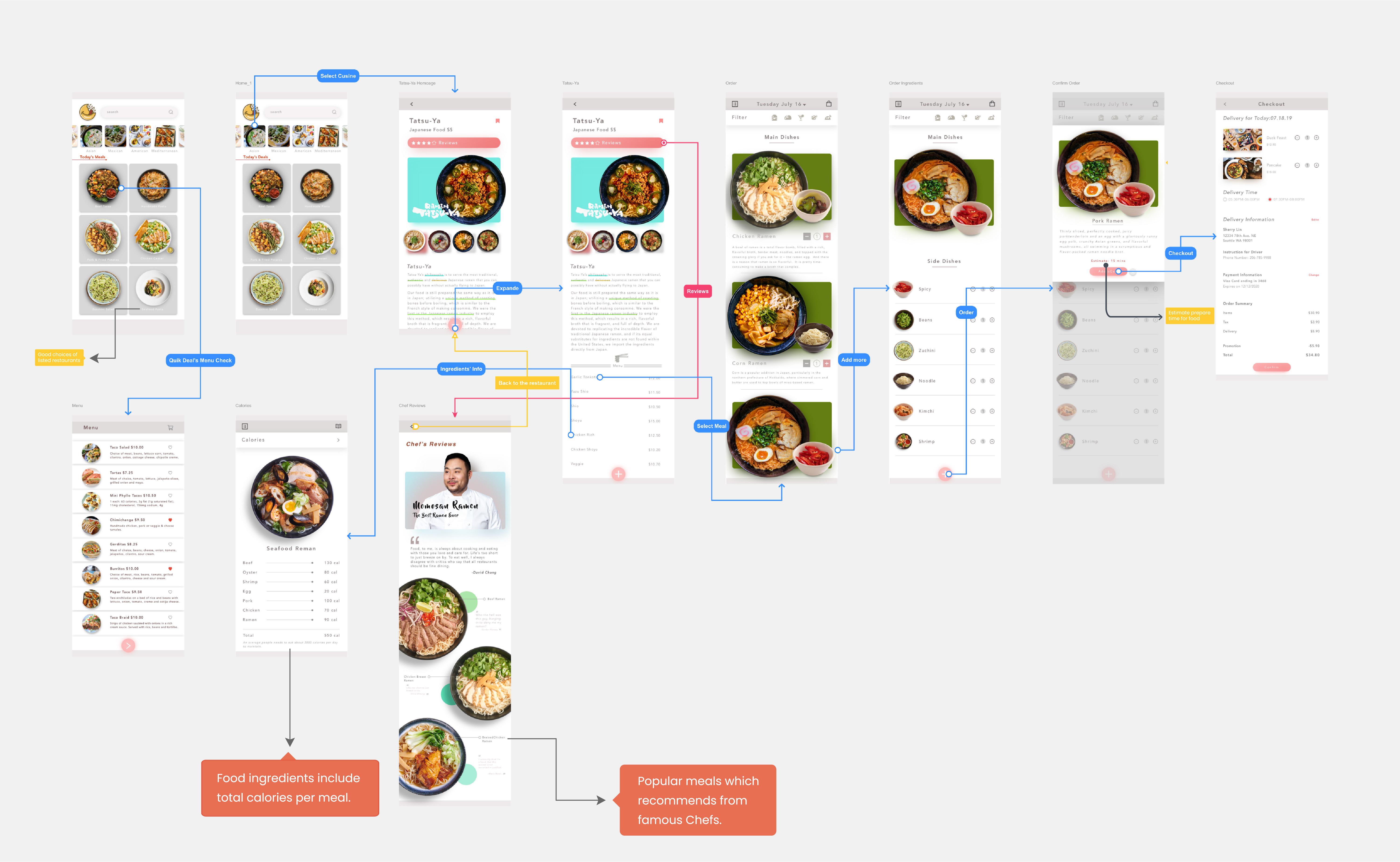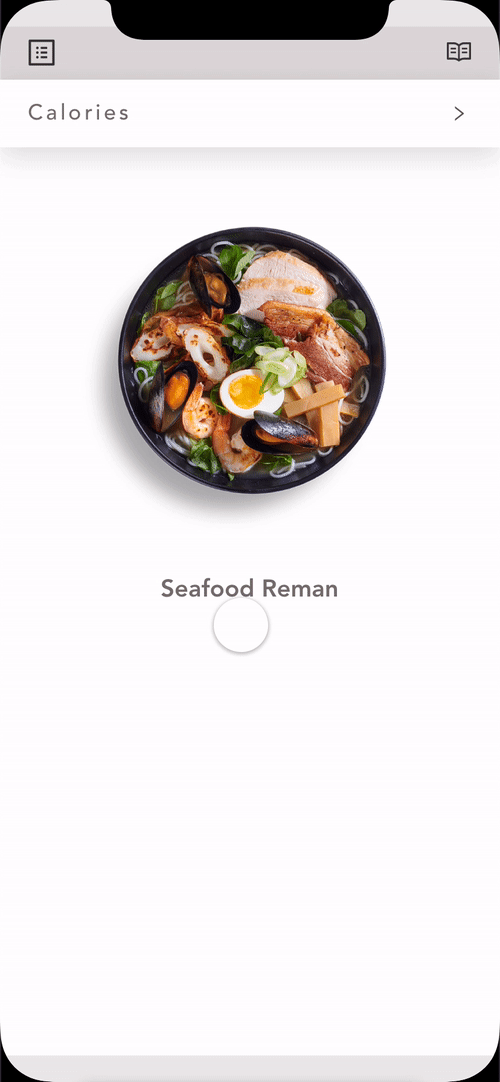 UI Design
After we did the first round of user testing, we started designing the screens in Sketch.
Based on the research that we are working on, such as UberEats, DoorDash, and OpenTable, we noticed bright colors and neat layouts are core design concepts. Then, we decided to choose bright and light colors for the screens to feel fresh, healthy, and delicious. Visual focus, elegance, and cleanliness are the essential visual styles we follow.
This platform is designed for the Apple iOS system.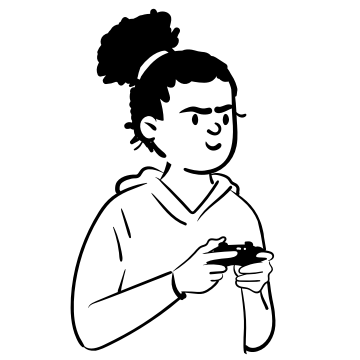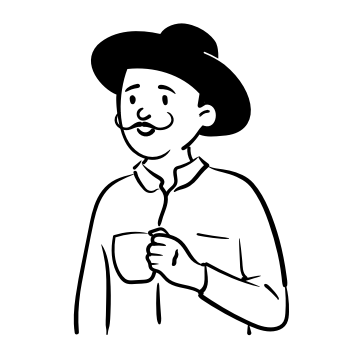 Future Improvement
Features & Ideas
Quality of Services (focus on comments, after

delivery services)


Top choices of listed restaurants (

seasonal, friends' list)

Ingredients in food

Tracking delivery location

Estimate food preparation time